Books
Mason's Backyard Workout
(Mason the Mouse) Mason's Backyard Workout is a story about a mouse named Mason who decides to have a backyard workout get-together with all of his animal friends after seeing a commercial on TV about how everyone needs to move and exercise. Mason asks his friend Ellen, the eagle, to help get the word out by dropping invitations to all his friends. His friends were excited about the backyard workout. The story uses a variety of animals who participate in Mason's exercise fun with each one adding an exercise that they enjoy doing. As children experience Mason's Backyard Workout they will meet Mason the mouse and his animal friends and engage their imaginations in a way that will encourage them to have their own exercise fun.


Mason's Snack Attack!: Chinese version 1
MASON'S SNACK ATTACK! Chinese Version by Ron Henderson "The Fitness King" This book series originated over 22 years ago with a dream to publish a children's book about a Mouse that decides to get fit and eat right along with his animal friends. Now this dream is a reality with the Mason the Mouse series. Over the past 35 years I have been to numerous elementary schools and the one thing that seemed to be common among the children was that they liked to exercise and even more when it was fun. Now, with the increase in iPhones, iPads, the internet and so on, kids have become less active. When my first child was born, I realized that he was more active than most kids his age—mostly because he grew up in my personal training gym and in a household that believed in the importance of taking care of one's health. With that in mind, and countless visits to area elementary schools, I was determined to write a book that would teach children the importance of moving and stretching. I am declaring to leave no child behind and crack the code on childhood obesity. When you read this book to your children they will hear about exercise and healthy eating in a fun way.
| | | |
| --- | --- | --- |
| | English version | Chinese version |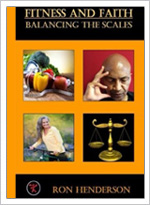 Fitness And Faith: Balancing The Scales (Volume 1)
Ron Henderson, "The Fitness King," has discovered through over three decades of being a top personal trainer that in order to reach your best physical shape you should also train to be spiritually fit. In Fitness and Faith: Balancing the Scales, Ron shares with you his personal journey and how you can use your love for Jesus to motivate you to make the changes in your life – in both your body and mind – to live a healthy lifestyle and to get into great physical shape. Leaning heavily on biblical teachings, Ron will show how you can improve your life by:
• Learning how to apply biblical truths to everyday life, training, and creating a healthy lifestyle
• Understanding the balance between mind, body and spirit
• Increasing effectiveness and endurance in ministry, home, and work
• Achieving freedom from the bondage to food.
This book should motivate people to get moving. Ron's heart comes out in his book; his sincerity in wanting God's people to be healthy and fit for doing what they are called to do. – Susan Snelling The Fitness and Faith connection, inspiration, and motivation is to treat your body like the temple God created it to be, and He will do AMAZING, MIRACULOUS things with it! – Amethyst Macrae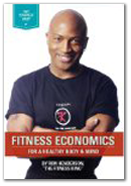 Fitness Economics
Ron Henderson? The Fitness King? has been motivating people to increase their health net worth for over three decades. His new book FITNESS ECONOMICS is designed to help every person take action and follow through using sound financial principles uniquely applied to personal fitness goals.
The inspiration to write Fitness Economics came from the desire to create a system that would not only motivate an individual to want to change but would also provide easy to apply and easy to remember strategies to help those changes become a reality. I believe you will find the principles of fitness economics to be a catalyst to increase your health portfolio and keep you on the path to physical fitness and freedom. "Money is the one thing that everyone can relate to-either you have it or you don't". We are taught the value of money early in life: those that have money can do things that those who don't have money can't. With Fitness Economics I have utilized tried-and-true financial principles and developed them into physical health and fitness strategies to help individuals no matter what stage of life or fitness.